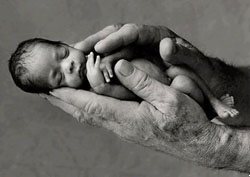 This is quite frightening.
Inside Catholic
has a story about how the abortion lobby has a plan to get $3 billion out of the government for their groups and stop funding all groups who oppose them. Here is the heart of the matter:
Go to Change.gov, the Web site of President-elect Barack Obama,

and you'll find a

document

titled "Advancing Reproductive Rights and Health in a New Administration." Signed by dozens of pro-abortion groups, including

Catholics for Choice

, this 55-page document provides an overview of the marching orders for the Obama administration in removing all present restrictions on abortions while dramatically increasing abortion funding.

Anyone who has bought into the myth that Obama is "moderating" his positions should notice that the first section is titled "Steps for the First Hundred Days." The groups that have spent

millions

supporting pro-abortion members of Congress, including Obama and Vice-President elect Joe Biden, aren't in the mood to wait.

Many of the recommendations are about who gets government support. The pro-abortion groups not only want more money -- nearly $3 billion -- but they also want the government to stop funding groups who do not share their ideology.

For example, notice the following four recommendations out of the many contained in the document:

·

Provide $1 Billion for International Family Planning Programs

·

Restore Funding to the United Nations Population Fund (UNFPA)

·

Increase Funding for Title X Family Planning Program to $700 million

·

De-fund Abstinence-Only Programs

Taken together, the proposed policies would accomplish three things: 1) treat abortion as a health care right, 2) provide funding for abortions by insurance carriers or the government, and 3) put judges and political appointees in place who will protect abortion and government funding from future challenges.

Included in the document is a complete list of vacancies in the Federal Circuit Courts and a two-page list of federal appointees who should be vetted closely on their support for the abortion right. The bulk of these positions are found in the Department of Health and Human Services, the Justice Department, the State Department, and the U.S. Agency for International Development.

The billions being demanded for abortion funding will eventually flow unimpeded through these channels.
The Susan B. Anthony List has an
action plan
to oppose it all.
NARAL - one of the most extreme pro-abortion groups is now trying to get hospitals which refuse to offer chemical abortions
in trouble
.